We are pleased to present our flagship product, Yonkers Granite. This stone, primarily used as a full-bed veneer but available in thin veneer form and various architectural stone applications, is the most dynamic Westchester Blend of stone veneer on the market.

It has been labeled by many as the closest match to the original Westchester granite seen throughout the metropolitan NY area, and is competitively priced against many other imitation Westchester stone blends. We supply thousands of tons each year to both public and private projects that call for a Westchester blend of stone.

Ask us for a sample and see the difference.
---
Our Stone's History

In 1924, our extended family began quarrying granite rock in the city of Yonkers, New York, for construction in Westchester County and New York City. The stonek was, and still is, one of the most popular building stones in the NY Metropolitan area.

Yonkers Granite is a versatile product that radiates both classic and contemporary appeal. It is majestic, mounted upon the area's most exquisite luxury homes as striking natural stone veneer. It is historic, sprawled through University campuses and on old world buildings. It has a purpose, building bridges and tunnels in and around Manhattan. You will find it as the façade upon prominent landmarks, churches, libraries, city halls and schools. It is steeped throughout Westchester County and the Hudson Valley, within the Five Boroughs of NYC, on Long Island, and in many parts of New Jersey, Connecticut and New England.

.

It is the one and only, true representation of native Westchester Granite - the striking building stone that catches one's attention immediately. From the grey, black and white speckle to the pink, peach tan or brown streaks that flow through its veins, Westchester Granite breathes life. It's an enduring symbol of strength, beauty and elegance.

The original supply of native Westchester granite gneiss is extinct. The quarries that once thrived in Westchester County, New York, have run dry and closed, and the once-abundant stone has become a scarce natural resource. The tens-of-thousands of tons of rock that remains beneath the earth's crust will likely stay there for most of eternity – underneath our neighbor's homes, businesses, parks and fields.
Our Stone, Today

Today, we are able to provide the world's most precise match to the original native Westchester stone. After closing the legendary quarry in Yonkers, we have since uncovered an endless supply of a replacement product different from any other on the market.

The stone from our new quarries mirrors the exact appearance of the lost commodity, Westchester Granite. We call our stone Yonkers Granite, of course, because that is where our ancestors spent endless hours quarrying stone for nearly 100 years. They worked day in and day out, through the most blistering cold and sweltering heat, to provide their Westchester stone to builders in the vicinity of the historic city of Yonkers, just minutes north of Manhattan.

We continue the longstanding tradition of old-world stone cutting, with an emphasis on customer satisfaction, and highly competitive pricing. The same principles that led to our success for over a century still ring true.

.

​Our Yonkers Granite is provided project-specific, and cut-to-order. With a discerning eye, our professional quality control team scours the quarries to assure a correct color match and custom ratio blend for each project. The raw boulders are then extracted from the quarry, and hand-cut/trimmed by 3rd and 4th generation master stone cutters, into suitable veneer. Finally, the finished product is shipped out to our customers.

The stone then awaits its project's stone setter or mason to make the finishing touches - the final cuts and pillows - to install the product onto its final home. Old world, at its finest.

There is no better match for any stone project in the Northeastern region of the United States.

Contact us for a sample today!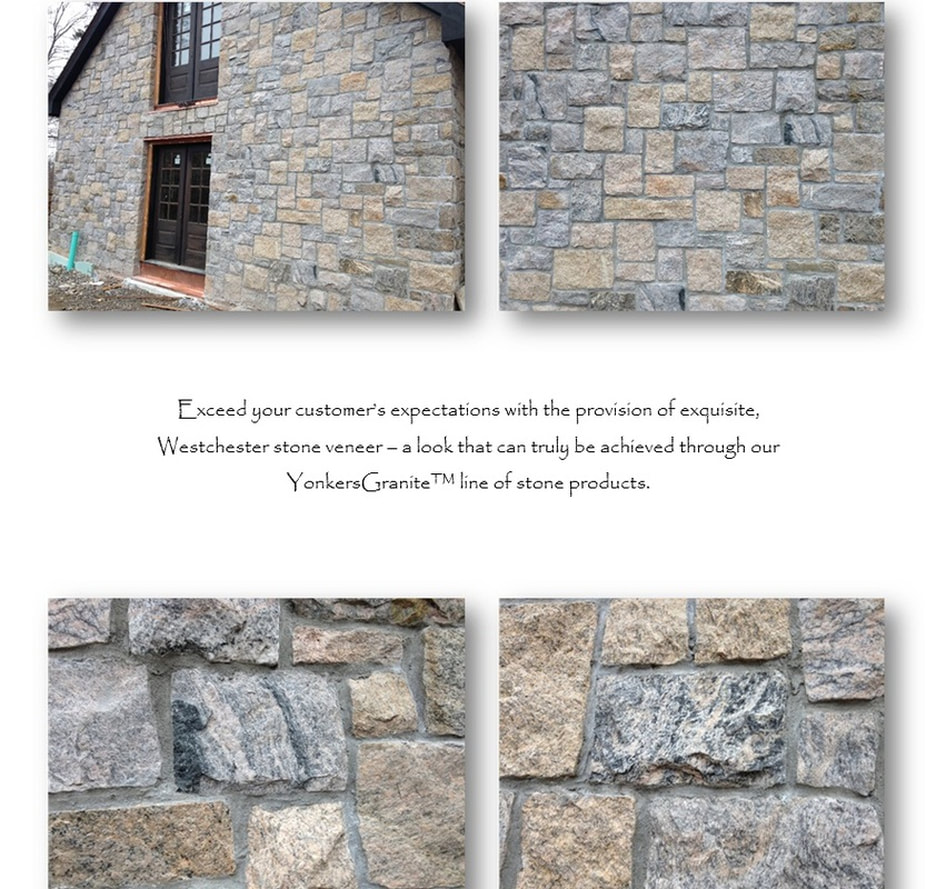 RESIDENTIAL INSPIRATION GALLERY

​INSTITUTIONAL INSPIRATION GALLERY